Did you know that September is Hunger Action Month?
Nearly 50 million people in the United States today are hungry or food insecure. Yet in this country, we will throw away over 133 billion pounds of good food this year. It is time for us to take action — to say that this situation is unacceptable and to do something about it. If we work together, we can solve hunger.
Hunger Action Month is a nationwide campaign to take action on the issue of hunger. It brings greater attention to hunger in the U.S. and promotes ways for us to get involved in the movement to fight hunger in our community.
The gift of a CSA to your local food bank is a great way to help feed the hungry with fresh produce from our farm for a season.
*****
If you're looking for a great recipe to make with your veggies this month, look no further!
Zucchini, Black Bean and Rice Skillet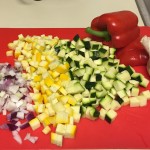 If you have been to a farmers market recently, you probably have seen the beautiful zucchini and corn that is just waiting to be eaten. This is a perfect summer recipe to use summer crops but don't let the winter snow stop you from making this. Frozen vegetables work just as well.
Ingredients:
Olive oil to coat pan
1/2 cup diced green or red bell pepper
1 can (15 oz each) Whole Black Beans, drained, rinsed
1 can (14.5 oz each) Fire Roasted Diced Tomatoes with Garlic, undrained
1 ½ cups of quartered, lengthwise-sliced zucchini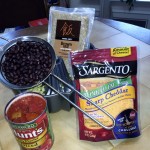 3/4 cup water (only if using instant rice)
1 cup instant white rice, uncooked or 1 package of microwavable 90 second rice – cooked for 90 seconds (we used Trader Joe's brown rice)
1/2 cup shredded Cheddar and Monterey Jack cheese blend
2 cobs of corn
1/2 cup of red onion
2 cloves of garlic, chopped
Salt and pepper to taste
Hot sauce, if desired
Avocado to garnish
Directions:
Remove kernels from cobs of corn. (This is easily accomplished by using a knife and a bundt pan.)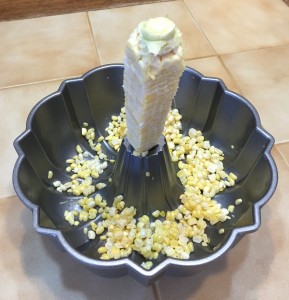 Heat oil in large skillet over medium heat. Add zucchini, bell pepper, onion and garlic; cook 5 minutes, stirring occasionally.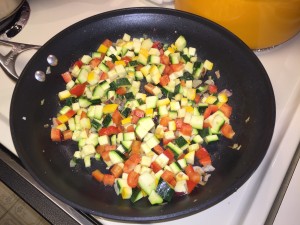 Add beans, corn, undrained tomatoes and water (if using instant rice). Increase heat and bring to a boil.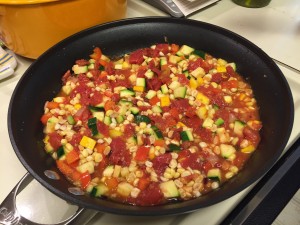 Add rice; stir well. Cover; remove from heat and let stand 7 minutes or until liquid is absorbed. If using 90 second microwavable rice, add rice and cook until the corn and beans are cooked through.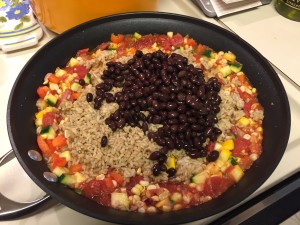 Add salt and pepper to taste. If desired add hot sauce to taste. Sprinkle with cheese. Garnish with avocado slices and enjoy!