Love winter squash? One squash, three different ideas! It's easy to be creative with an ingredient that's so versatile. We turned one winter carnival squash into three different recipes – and the fun is each recipe builds on the other, so you can even turn one recipe into the next. Feel free to substitute any winter squash – it will be equally delicious. Pick what you're in the mood for – or try all three!
Let's get started!
Recipe 1 – Baked Stuffed Squash with Apples and Onions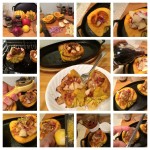 Ingredients
1 carnival squash (wash the outside, cut in half, reserve seeds for Recipe 2)
1 apple (we used gala)
Zest of 1 lemon, juice of half a lemon
Quarter red onion, chopped fine
Half teaspoon vanilla extract
Quarter teaspoon salt
Quarter teaspoon cinnamon
Eighth teaspoon nutmeg
2 teaspoons honey
1 teaspoon butter (separated in two pieces)
If baking squash seeds (see recipe 2, below) while prepping this recipe, raise oven temperature to 375°F after removing the seeds from the oven. Otherwise, preheat oven to 375°F.
Wash the carnival squash, apples, lemon, and mince red onion.
Cut squash in half, remove the seeds and use in recipe 2.
Place seeded squash face up on baking pan, lightly salt and then fill with minced onions and apple pieces.
Top each squash half with half a teaspoon of butter.
Drizzle one-quarter teaspoon vanilla extract over each half. Sprinkle halves with cinnamon and nutmeg. Drizzle with honey. Zest the peel of one lemon, sprinkle on each squash half. Squeeze the juice of half a lemon over both squash halves. Lightly salt squash again.
By the time you have prepared these halves the Toasted Squash Seeds will be done. Take out and taste – yum! – either crack open and enjoy seed within (or some people even eat the entire crunchy seed).
Raise the oven temperature to 375°F and preheat.
Bake in preheated oven for 45 minutes, then remove and smell the goodness!
Now time for Recipe 3! (If you have any left after this comes out of the oven!)
***
Recipe 2 – Toasted Squash Seeds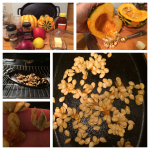 Ingredients
Carnival squash seeds (from recipe 1 prep)
Salt or other desired seasoning
Preheat oven to 275°F.
Place seeds on a baking sheet, salt or season them, and cook in the 275°F oven for 20 minutes. Don't worry about removing all of the pulp, it toasts nicely and tastes great!
***
Recipe 3 – Cream of Squash Soup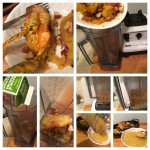 Ingredients
Finished Baked Stuffed Squash (from Recipe 2, above)
Coconut creamer (or any liquid to thin puree into soup)
Additional salt and pepper, to taste
Remove skin from the Baked Carnival Squash with Apples and Onion.
Place cooked ingredients in blender, or food processor.
Puree and add coconut creamer (or other liquid, such as milk or stock) until it reaches your desired thickness. This can be a thick, creamy soup or thinner consistency, depending on your preference.
Taste and season with salt and pepper, if desired.