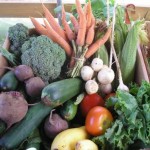 Want a taste of the farm delivered to your door every week? We'd like to invite you to sign up today for our Fall CSA Program.
Fall Program (October 6-December 8): 10 weeks of greens, stored roots, winter squashes, apples, herbs. Note that weeks may not be consecutive weeks due to weather conditions.
1 box of 5-6 veggies and apples for 10 weeks is $200+ $50 delivery fee, if applicable.
Please email us for more details. Our registration form can be downloaded by clicking the following link: 2014 Registration Form.
*******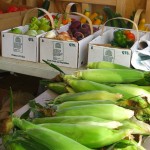 Our farm stand is open daily from 11:00 a.m. to 6:00 p.m. mid-May through mid-October. It is located at the farm, 391 Chestnut Tree Hill Road, Oxford.
*******
Mondays
Stratford Farmers Market
June 30 through October 27, 2:00 p.m. to 5:00 p.m.
New location Paradise Green off Main Street/Huntington Road
Tuesdays
Seymour Farmers Market
May 13 through November 18, 12:00 p.m. to 6:00 p.m.
Community Center, Pine Street
Wednesdays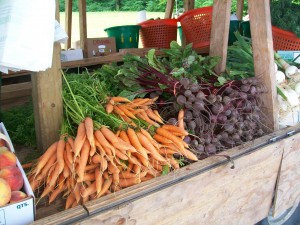 Darien Farmers Market
May 21 through December 24, 11:00 a.m. to 4:00 p.m.
Goodwives Shopping Center, 25 Old Kings Highway North
Wilton Farmers Market
June 18 through October 1, 12:30 p.m. to 5:30 p.m.
Wilton Historical Society, 224 Danbury Road (Route 7)
Rainbow Plaza Farmers Market
May 14 through November 19, 11:00 a.m. to 4:00 p.m.
205 Main Street, Norwalk
Thurdays
Scinto Towers
July 3 through frost, 12:00 p.m. to 3:00 p.m.
3 Corporate Drive, Shelton
Tommy K's Plaza
May 15 through frost, 12:00 p.m. to 6:00 p.m.
144 Oxford Road (Route 67), Oxford
Fridays
Monroe Farmers Market
June 20 through October 24, 3:00 p.m. to 6:00 p.m.
Monroe Town Green, corner of 6 Fan Hill Road and Route 111
Beacon Hose Company No. 1
June 20 through October 31, 3:00 p.m. to 7:00 p.m.
35 North Main Street, Beacon Falls
Saturdays
New Canaan Farmers Market
May 17 through November 22, 10:00 a.m. to 2:00 p.m.
Old Center School Municipal Parking Lot, Maple Street/South Avenue
Greenfield Hills Farmers Market
May 17 through October 25, 11:00 a.m. to 3:00 p.m.
1950 Bronson Road, Fairfield
Oxford Center School
July 12 through frost, 10:00 a.m. to 2:00 p.m.
462 Oxford Road (Route 67)